Our expert in customs services tells us why it is quite important to consider a local audit to take care of your investment.
Someone sent you a great catalog of a product that you need to import. Unlike other proposals, this one brings attractive prices and the quality of the material seems ideal.
Contacting us at Europartners, you learned some good alternatives to bring the merchandise, in the timeframe you need and within your budget.
Price, payment terms, quality, variety, specifications… importing from Asia has many advantages. But something makes you feel insecure… Does the company really exist? Is it trustworthy?
To support you in this process, I gathered in a guide six general points that you should check before making a purchase for the first time or when changing your Asian supplier.
1. Factory profile and market experience
This information is quite important to learn if the supplier and its factory really exist.
Year in which the company was created.
Is it a private company? Public? State? A joint venture?
How many employees do they have?
What ranges of products do they handle?
Annual sales.
Investments.
In which cities are the company and its factory?
This last point will also help you to set up your logistics plan, since you can easily determine the closest ports and airports.
2. Production line
Trustworthy companies have no trouble showing the operations on this critical part of their supply chain.
How many production lines are there?
Production capacity (how many units of merchandise can they complete per day?)
Total lead time (how many days do they take to finish a part?)
Do they have testing areas?
Are approved samples (signed by a manager) available on the production line?
Are instructions available on the production line for manufacturing and quality control teams?
3. Facilities, machinery and equipment
Are they willing to send photos and videos of the facilities?
Do they have warehouses?
If the answer is "yes", are they in the same facilities as the production line?
Are the supplies stored in safe places?
Are they well identified?
Does the machinery undergo periodic maintenance?
Is the efficiency of the machinery periodically verified?
Is the fire protection system adequate and in good conditions?
4. Licenses, certificates, etc.
To verify the legitimacy of a supplier, check if they have the basic operating licenses according to local rules and documents that prove that the company is legally constituted.
If the chosen product requires special certificates (if it is a product from the healthcare industry or a HAZMAT, for example), check if the company has all of them.
Business licenses, export licenses and certificates such as ISO 9001, ISO TS 16949, ISO 13485 and compliance with measures against fire, social responsibility and the environment, among others, also add points.
5. Employees working conditions
Unfortunately, bonded labor is still a problem worldwide, and being linked to a provider that doesn't meet high standards of workplace quality can lead to legal problems and major damages to your brand image.
In this category, among other details, it is important to know if:
All employees have an employment contract.
General working conditions are acceptable.
Professionals are trained according to the industry.
6. Management system
Does the company have well defined quality indicators?
Are they measured periodically?
Are the files organized and available for consultation?
Does the company have robust processes for selecting its own suppliers?
Does the company review and answer customer complaints?
Do they have sales and customer service teams fluent in English and/or Spanish?
And do you know what is the best way to check all the points mentioned? Contracting an audit to the supplier's factory. Our teams at Europartners are ready to include this service in your logistics plan!
A market-recognized auditor will request an appointment to visit the company (and/or its factory), freely and with assistance to verify all the points mentioned above and more.
In the end, you will receive a report with objective conclusions and specific observations of the findings.
Fun facts
No other continent exports as much to Mexico as Asia. Among the countries, China, Japan and Malaysia, respectively, lead business with Mexico.
Trade balance per country
(in thousands of dollars)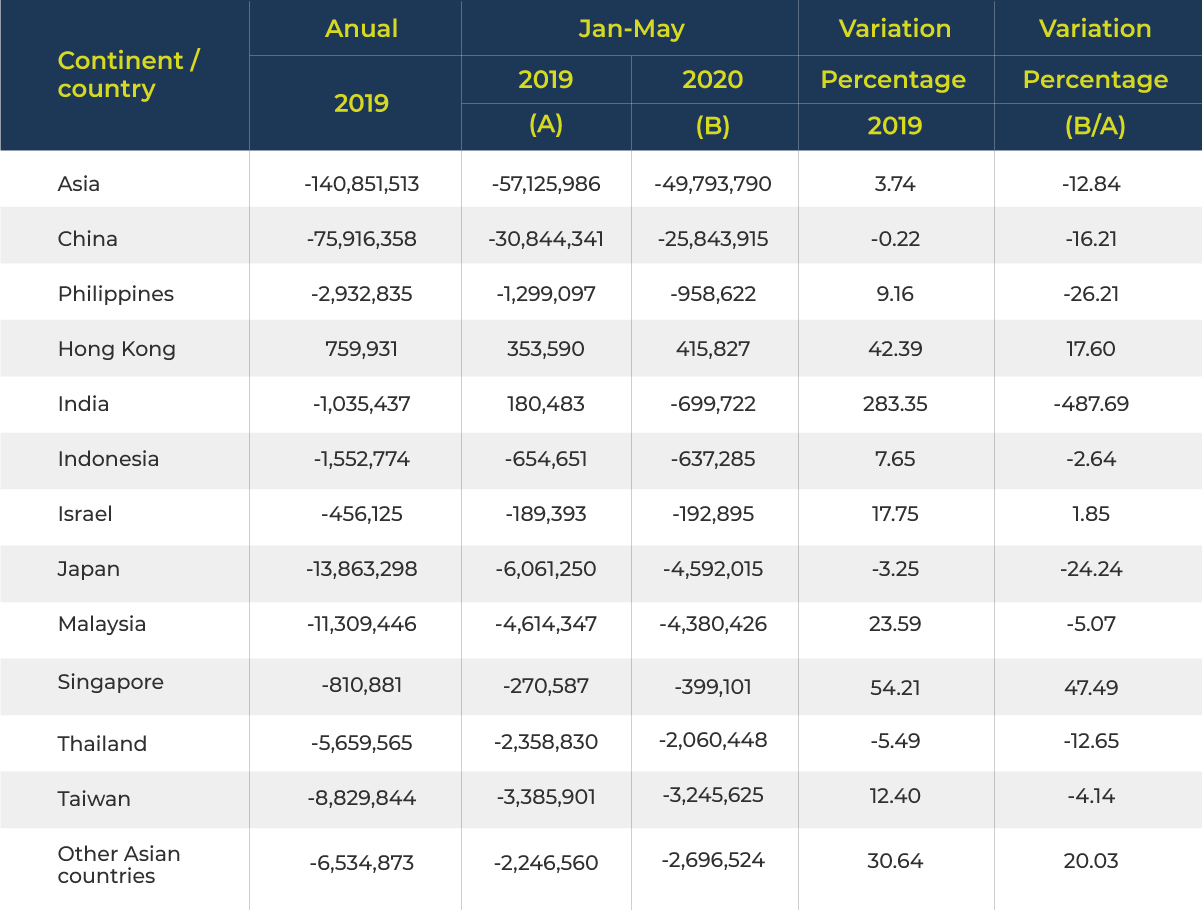 Our trusted factory audit provider offers immediate service coverage in China, India, Pakistan, Bangladesh, Vietnam, Cambodia, South Korea, Taiwan, Indonesia, Thailand, Malaysia and Sri Lanka.
Contact us too if you need the service in any other country in the world. We are at your disposal to design, together, a customized logistics plan, finding the best suppliers at all stages.